Synopsis
Beth (Beth Grant) and John (John Diehl), a married couple with a penchant for adoption, living in rural Washington state, take in Charlie (Charlie Robinson) and his eight year old granddaughter Bobbie, refugees from the destruction of Hurricane Katrina in New Orleans. But an extended storm sets in, and the newcomers become convinced that fate has it in for them. As a feverish illness strikes their guests, Beth's and John's fears of contagion cause them to panic. Their estranged, adopted daughter (Corbett Tuck) returns home to find her family in tatters and their guests forced to relive their recent tragedy. The storm, however, may be a lot less dangerous than human nature.
Mythology: Director's Statement
The Disaster seems to come out of nowhere; it is shocking in its apparent sudden extremity. But it is neither usually sudden nor unexpected. It is the end state of a long process, the breaking point of a tension or contradiction that has hitherto remained under the surface. It is not in and of itself a problem; it is the exposition of a problem, the moment when crisis reaches critical mass and explodes into the consciousness of an entire populace, usually through a newsworthy event. Poverty, terrorism, and political strife are not recent developments. We prefer to think of disasters as a radical break with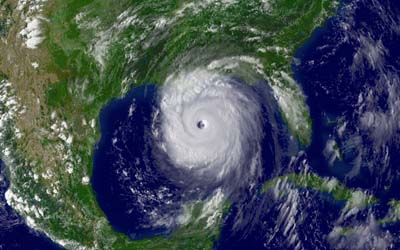 current trends rather than as a logical consequence of them. Thus in our Disaster mythology, at least in the United States, the element of surprise figures centrally. The Disaster re-packages troubles as external forces; unpredictable, awe-inspiring spectacles out of our control. They also provide a focal point--wanted or unwanted, necessary or unnecessary--for our collective attention: a headline, a heart-wrenching graphic.
Our relationships are like this. It often takes a newsworthy event to expose our underlying tensions. Our personal lives mirror the national character: we have similar illusions and distractions, fixations and amnesia. And we have similar disasters.
In Natural Disasters, a family is created from fragments. Fragments of a former family, an imagined family, an improvised family. Refugees from New Orleans try to fuse with an insular, rural couple from Washington State; but as always in a disaster film, the union doesn't go as planned.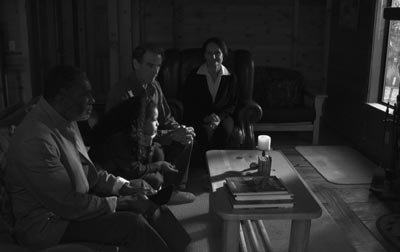 My aesthetic approach to the film reflects the thematic, spatial, geographic, and psychological fragmentation of the characters. Most of the film takes place inside a small house besieged by a torrential downpour; it was filmed in black and white. Occasionally, however, memories, fantasies, and other cognitive incursions intrude into this tightly controlled space. An amorphous, shifting split-screen fragments the image in these cases, morphing from the point of view of the characters involved, mixing and inverting interior and exterior space. The entire film was shot with shaky hand-held cameras, emphasizing the rawness and fragility of the characters' unions and collisions.
This film is my response to the cultural component of Hurricane Katrina- the class and racial divide that existed before the hurricane- informing and schematizing the public and governmental response to it- and the cultural aftermath and diaspora that has so saddened me. To me, the best way to explore Katrina cinematically was to get as far away from New Orleans as possible (in the film, Washington state) and reconstruct the event from multiple, prismatic points of view in rural America. The result is a very personal, sometimes absurd exploration of the American home, the family, and above all the metaphysical link between our hearts, our mythologies, and the weather.